Looking at the funding numbers, the Dutch startup ecosystem is in excellent health! Every year we make a list of all publicly announced startup deals in The Netherlands, and for 2018 we were able to find more than 130 deals, with a median investment amount of 1 million euros.
Why this funding list
The goal of the Startupjuncture funding overview is to provide transparency into the Dutch ecosystem. The list shows that there are many startups that receive funding. We explicitly provide a full list rather than just a total number, to help other people do additional research. We hope the list shows startups what type of startups receive funding in The Netherlands, who the most active investors are, what the typical amount of funding is and at what stage startups can ge funding. We are grateful that many investors and startups make this data available, since this data is important for other startups. In our view, having such data helps startups plan their investment strategy.
How the funding list is created
Searching: The list was created by searching the leading Dutch startup blogs for data about investments. Since startupjuncture is less active, we are relying on our colleagues. We would like to thank startup news sites Sprout, Emerce, EU startups and Silicon Canals for   and public databases dealroom (via startupdelta) and Crunchbase.
Selecting: We have used a liberal definition of 'startup': we include any investment in an innovative companies that intend to scale. If you have a more stricter definition of a startup, feel free to download the list and apply a filter on the data. The top 15 companies of the list are probably more scale-ups than startups: they have already found a business model. We believe however that any good research into startup funding should include these scale-ups as well. It would be very unfair to first exclude the major successes, and then conclude that there are few successful startups.
Estimation: In some cases, the amount of funding is undisclosed. We made an estimation of the funding amount in order to estimate total funding. We do this depending on what funding round it is and the type of investors. Our typical estimate is 500.000 euros since this is a typical seed/first round for a Dutch startup.
Validation: We have only included deals where there is an external source. Nevertheless: mistakes and omissions are possible. If you discover a mistake, please let us know.
Top startups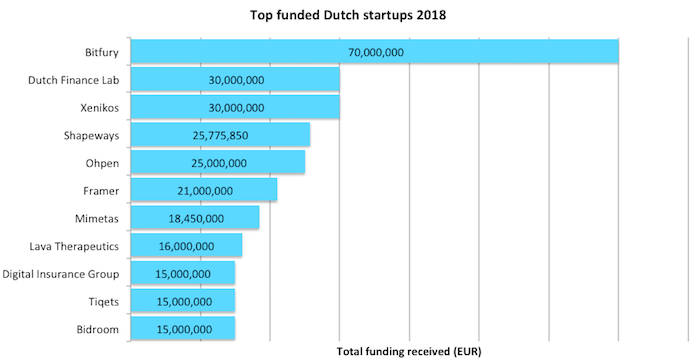 There are 11 startups that have received more than 15 million in funding. They are the startups/scale-ups that were most successful in raising funds. This is of course not the same as overall success: some of the most successful business do not need to raise funds.
Comparison to previous years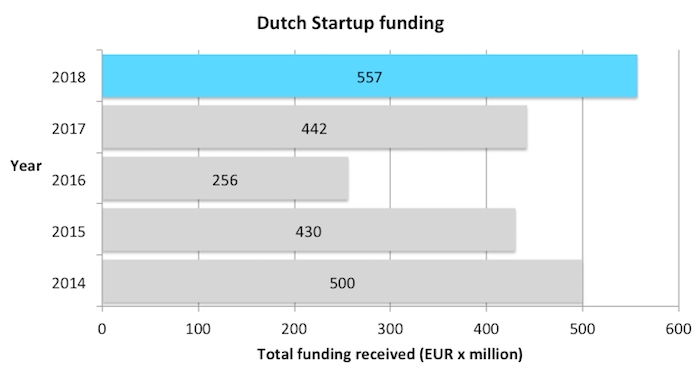 Comparing the total amount of funding is dangerous: one or two outliers have a huge impact on the total. Nevertheless it makes for interesting headlines so in the chart above we have included the totals. 2018 is a normal, good year for funding. There is no sign of a slowdown in startup funding. for more details on the previous years, check the following overviews:
The full 2018 Dutch startup investment list
This list provides for each startup the amount of funding received, the investors, and a link to the source of the investment information. The list is sorted on (estimated) funding amount.
Rank
Startup
Investor
Amount
Source
1
Bitfury
Korelya Capital
€ 70,000,000
silicon canals
2
Dutch Finance Lab
Pieter Schoen
€ 30,000,000
startupjuncture
3
Xenikos
Medicxi and RA Capital Management
€ 30,000,000
xenikos
4
Shapeways
Lux Capital
€ 25,775,850
shapeways
5
Ohpen
Amerborgh
€ 25,000,000
startupjuncture
6
Framer
Atomico, Accel
€ 21,000,000
silicon canals
7
Mimetas
ELSG, Aglaia Oncology, Korys, Cathay, Innovation Quarter, OostNL
€ 18,450,000
mimetas
8
Lava Therapeutics
Gilde Healthcare and Versant Ventures
€ 16,000,000
Lava Therapeutics
9
Digital Insurance Group
Zurich Insurance and Finch Capital
€ 15,000,000
finsmes
10
Tiqets
HPE growth capital
€ 15,000,000
HPE
11
Bidroom
undisclosed
€ 15,000,000
silicon canals
12
VarmX
BioGeneration Ventures and Innovation quarter
€ 12,500,000
silicon canals
13
Effect.AI
ICO
€ 11,000,000
crunchbase
14
GreenFlux
Eneco, SET Ventures, BOM, ICT Group
€ 11,000,000
sprout
15
Fastned
bond issue
€ 11,000,000
silicon canals
16
Black Bear
Chemelot Ventures, ING Sustainable Investments, Stitching DOEN, SCG, Social Impact Ventures and 5square
€ 11,000,000
silicon canals
17
Zivver
Dawn Capital, DN Capital, HenQ
€ 11,000,001
zivver
18
Impraise
Keen Venture and HenQ
€ 9,500,000
silicon canals
19
Photanol
GROEIfonds, Investeringsfonds Groningen
€ 8,000,000
photanol
20
Cobase
ING ventures
€ 7,500,000
silicon canals
21
Mosa meat
Bell Food Group and Merck
€ 7,500,000
silicon canals
22
HousingAnywhere
Vostok New Ventures
€ 6,000,000
baaz
23
VirtuaGym
Endeit capital
€ 6,000,000
virtuagym
24
Mews
HenQ
€ 6,000,000
HenQ
25
SMART Photonics
informal investors
€ 6,000,000
smartphotonics
26
ParkBee
Statkraft, InnovationQuarter
€ 5,000,000
startupjuncture
27
Lightyear
private investors
€ 5,000,000
ED
28
Cleeng
C4, Walvis participaties
€ 5,000,000
emerce
29
Hardt
InnoEnergy
€ 5,000,000
silicon canals
30
Instant Magazine
Connected capital, Newion
€ 4,500,000
silicon canals
31
Screenpoint Medical
Siemens Healthineers and private investors
€ 4,300,000
Radboud UMC
32
OneFit
INKEF Capital
€ 4,250,000
Sprout
33
Connecterra
Sistema VC and AG funder
€ 4,200,000
Agfundernews
34
Innecs Power Systems
Finindus, ENERGIIQ en BOM
€ 4,000,000
innecs
35
Innecs Power Systems
Finindus, ENERGIIQ and BOM
€ 4,000,000
duurzaambedrijfsleven
36
Blendle
Morten Strunge and BookSpot
€ 4,000,000
nu.nl
37
Roadmap
Newion Investments
€ 4,000,000
sprout
38
Temper
Slingshot
€ 4,000,000
silicon canals
39
Harver
Insight Venture Partners
€ 3,900,000
startupjuncture
40
SemiBlocks
BOM
€ 3,000,000
sprout
41
Crisp
undisclosed
€ 3,000,000
silicon canals
42
Felyx
private investors and ABN AMRO bank
€ 3,000,000
EU-startups
43
Fairphone
crowdfunding via oneplanetcrowd
€ 2,500,000
silicon canals
44
Beyond Sports
Triple IT
€ 2,400,000
sprout
45
blanco
Volta Ventures and KBC Start it Fund
€ 2,000,000
blanco
46
Knowingo
Airbridge
€ 2,000,000
airbridge
47
Exasun
ING Sustainable Investments, ENERGIIQ, ABN Amro
"several millions"
innovationquarter
48
Phenospex
LIOF
€ 2,000,000
futurefoodfund
49
Solease
Crwdfunding via Duurzaaminvesteren
€ 2,000,000
silicon canals
50
Aectual
AKEF, DOEN Participaties and American company
€ 1,800,000
sprout
51
Kepler Vision Technologies
UVA Ventures, Stokman
€ 1,700,000
vectrix
52
Avular
Lumipol Holding
€ 1,500,000
sprout
53
Physee
undisclosed
€ 1,500,000
bright
54
Wonderflow
P101 (Italy)
€ 1,500,000
tech.eu
55
Factris
Speedinvest Fintech
€ 1,500,000
silicon canals
56
MRIguidance
Health Innovations
€ 1,500,000
silicon canals
57
Rex.AI
Newion ventures
€ 1,500,000
silicon canals
58
LeydenJar Technologies
UNIIQ, BOM
€ 1,450,000
linkedin
59
Nowi
Disruptive Technology Ventures
€ 1,400,000
linkedin
60
Openclaims
Velocity Capital and Tablomonto
€ 1,300,000
emerce
61
Salvia BioElectronics BV
BOM) and Thuja
€ 1,300,000
innovationorigins
62
Stapp.in
Taxi Baan and Houttequiet and investment fund Silicon Polder Ventures
€ 1,300,000
silicon canals
63
Hardt
Block Party (Gregory van der Wiel)
€ 1,250,000
startupjuncture
64
Swipeguide
Newion Investment
€ 1,000,000
startupjuncture
65
Blockport
ICO
€ 1,000,000
startupjuncture
66
Inkless
Angel investors
€ 1,000,000
inkless
67
MindAffect
OostNL, Bernard Muller
€ 1,000,000
nu.nl
68
Homerr
CNBB Venture Partners
€ 1,000,000
emerce
69
The Next Closet
PDENH, anneke Niessen
€ 1,000,000
sprout
70
Peel Pioneers
BOM, Stichting Doen and ABN Amro
€ 1,000,000
peelpioneers
71
Attrace
undisclosed
€ 1,000,000
perssupport
72
BridgeFund
undisclosed
€ 1,000,000
bridgefund
73
Travelbags
RTL Ventures
€ 1,000,000
schoenvisie
74
Attrace
undisclosed
€ 1,000,000
silicon canals
75
Brenger
Tablomonto
€ 950,000
silicon canals
76
Voltea
Unilever, Rabobank, ETF, Anterra
€ 900,000
crunchbase
77
Quicargo
group of experts and investors
€ 900,000
linkedin
78
Quicargo
Angel investors
€ 900,000
emerce
79
Srprs.me
crowdfunding
€ 900,000
silicon canals
80
Correspondent
Pierre Omidyar
€ 800,000
emerce
81
FlorAccess
group of e-commerce investors
€ 750,000
startupjuncture
82
Otrium
Fred Gehring (ex-CEO) and Ludo Onnink (ex-CFO) and Adriaan Mol
€ 750,000
startupjuncture
83
Loqed
Nextstage
€ 700,000
vectrix
84
Objectiv
Dutch entrepreneurs
€ 684,320
venture beat
85
Flex-appeal
two informal investors
€ 600,000
startupjuncture
86
IMSystems (Archimedes Drive)
InnovationQuarter en Lucros Investment
€ 600,000
innovation quarter
87
Geospark
Airbridge
€ 500,000
finsmes
88
Picturae
Karmijn
undisclosed
karmijn
89
EST-Floattech
Rotterdam Port Fund
undisclosed
portofrotterdam
90
Unit040
BOM and Parinvest
undisclosed
emerce
91
Kriya Materials
Henkel
undisclosed
chemelot
92
Triple Solar
DOEN Participaties and PDENH
undisclosed
solarmagazine
93
Ockto
ABN Amro
undisclosed
iex.nl
94
GoodFuels
Social Invest Ventures
undisclosed
consultancy.nl
95
One Of A Kind Technologies
Gimv
undisclosed
OOAKT
96
Fiberneering
OostNL
undisclosed
oostNL
97
360SportsIntelligence
OostNL
undisclosed
oostNL
98
Dobbi
PostNL, Henkel
undisclosed
sprout
99
Onera
BOM
undisclosed
silicon canals
100
Zummit
Van der Meijden Investment
undisclosed
computable
101
Fibonacci
Van der Meijden Investment
undisclosed
computable
102
GoCredible
Rabo Frontier Ventures
undisclosed
emerce
103
Jules
LIOF
€ 500,000
chapeau
104
GeoSpark
Airbridge equity partners
€ 500,000
crunchbase
105
Vertoro
Chemelot Ventures, LIOF
€ 500,000
chemelot
106
Joindata
Rabo Frontier Ventures
undisclosed
emerce
107
Volgroen
PDENH and DOEN
undisclosed
solarmagazine
108
Wellsun
Thomas Borsboom and Lucas van Reeken
undisclosed
wellsun
109
Unless
Block Party (Gregory van der Wiel)
undisclosed
computable
110
Sneleentaxi
Symbid crowdfunding
€ 500,000
silicon canals
111
Dyme
ASIF
undisclosed
silicon canals
112
Edubookers
BOM
undisclosed
silicon canals
113
Alledaags
Nextgen Ventures
€ 500,000
silicon canals
114
EAVE
Forward.one
undisclosed
Forward.one
115
Sjoprz
Liof
undisclosed
LIOF
116
Careibu
undisclosed
€ 400,000
silicon canals
117
ContentKing
a group of informal investors
€ 350,000
startupjuncture
118
Concord neonatal
UNIIQ
€ 300,000
startupjuncture
119
Innovative Mechatronics
UNIIQ
€ 300,000
uniiq
120
SunData
DOEN
€ 300,000
Sundata
121
Oceans of Energy
UNIIQ
€ 300,000
sprout
122
Voitures Extravert
undisclosed
€ 300,000
voitures-extravert
123
Numeric Biotech
UNIIQ and Erasmus MC
€ 300,000
numericbiotech
124
Closure
Janneke Niessen
€ 300,000
silicon canals
125
Plek
via Voordegroei
€ 300,000
silicon canals
126
Shypple
Brabant Development Cooperation (BOM)
250000 (estimated)
startupjuncture
127
DFFRNT Media
Talpa Network
250000 (estimated)
startupjuncture
128
Voicey
Block Party (Gregory van der Wiel)
€ 250,000
startupjuncture
129
EAZ Wind
Groninger Economisch Investeringsfonds
€ 200,000
energeia
130
Eco-movement
Arches Capital
€ 200,000
silicon canals
131
Blockdata
undisclosed
€ 200,000
silicon canals
132
LessonUp
Peak capital
€ 100,000
sprout
133
Batchforce
Peak capital